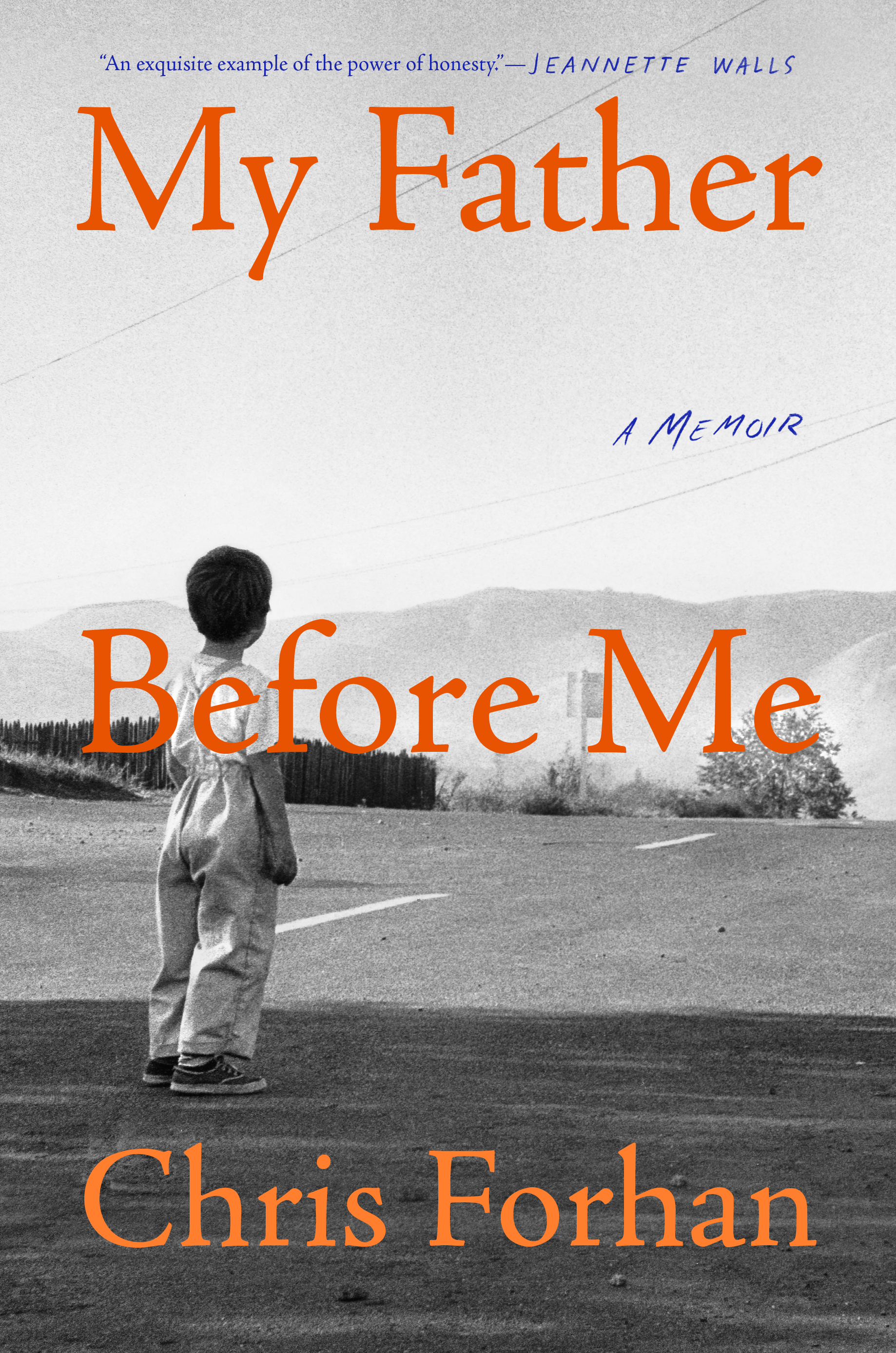 MY FATHER BEFORE ME
An award-winning poet offers a multi-generational portrait of an American family—weaving together the lives of his ancestors, his parents, and his own coming of age in the 60s and 70s in the wake of his father's suicide, in this superbly written, "fiercely honest" (Nick Flynn) memoir. The fifth of eight children, Chris Forhan was born into a family of secrets. He and his siblings learned, without being told, that certain thoughts and feelings were not to be shared. On the evenings his father didn't come home, the rest of the family would eat dinner without him, his whereabouts unknown, his absence pronounced but not mentioned. And on a cold night in 1973, just before Christmas, Forhan's father killed himself in the carport. Forty years later, Forhan "bravely considers the way he is and is not his father's son" (Larry Watson), digging into his family's past and finding within each generation the same abandonment, loss, and silence in which he was raised. Like Ian Frazier in Family or Frank McCourt in Angela's Ashes, Forhan shows his family members as both a part and a product of their time. My Father Before Me is a family history, an investigation into a death, and a stirring portrait of growing up in an Irish Catholic childhood, all set against a backdrop of America from the Great Depression to the Ramones. Marrying the literary scope of memoirists Geoffrey Wolff and J.R. Moehringer with the intensity of family novels like The Corrections and We Are Not Ourselves, My Father Before Me is the kind of epic, immersive memoir that comes along once in a decade.
"My Father Before Me is an exquisite example of the power of honesty. In this wonderful memoir, Chris Forhan shows that the best way to counter a legacy of mystery and deception is with compassion and truth."
                —Jeannette Walls, bestselling author of The Glass Castle
"My Father Before Me is the compelling account of a father's suicide and its devastating after-effects. Chris Forhan sets out to answer the questions that family members inevitably ask in the wake of this tragedy: What made him do it? Was it something I did or said? Was it something I didn't say? Was there anything any of us could have done to save him? From the dramatic act itself to the reverberations felt for decades, Chris Forhan looks without flinching at himself and his father and bravely considers the way he is and is not his father's son. On any single page of this remarkable memoir there are more honest insights than in entire books on the same subject."
                —Larry Watson, author of Montana 1948
"A son's relationship with his father is nearly always fraught, but Chris Forhan's is especially compelling: at 14, abandoned by his father's suicide, Chris was old enough to have been shaped by his father, but still too young to understand how. By the time he's 44—the same age his father reached—Chris begins to reassess, taking a fiercely honest look at himself and his family in the hope that he might change. Piercing and compassionate, My Father Before Me offers a brilliant glimpse into the seemingly impossible but urgently human task of growing out of the selves we've become and into the selves we need to be."
                —Nick Flynn, author of Another Bullshit Night in Suck City
"Chris Forhan has long been one of my favorite poets, and I was thrilled to hear that he'd written a memoir. It is everything I imagined it to be. It's that rare thing--a true memoir, a real re-imagining of a self and an experience. What he has to say here about childhood and adulthood, choosing to live and choosing to die, who we are as children and who we are as parents is timeless and universal in its necessity. The sheer energy of this material is riveting, and the utter intensity of it is its most inescapable quality."
                —Laura Kasischke, author of the National Book Critics Circle Award-winning Space, In Chains
"I was moved by this book and especially absorbed. It is a truly emotionally gripping saga. . . . My Father Before Me is set apart by the special attributes of the very best books of its kind—characters one seems never to have encountered previously on the page and a narrator who attaches himself to our own memories and, moreover, to our hearts and feelings. This belongs on the special shelves we keep for the books we cannot quite forget."
                —George Hodgman, author of the New York Times bestseller Bettyville
"Poignant . . . affecting . . . . It's difficult to lose a parent, let alone write about the loss. Forhan describes his family's healing and acceptance with warmth, humor, and an admirable lack of bitterness."
                —Kirkus Reviews
"Forhan is a poet . . . , and this introspective, precisely written memoir shows it. . . . A deeply sad but powerful family story."
                —Booklist
"This memoir does an extraordinary job of delving deep into Forhan's Irish American family, and his parents' own dysfunctional pasts. He is particularly brilliant when delineating the ways in which we inevitably carry on our family histories, no matter how we may try not to. . . . A wonderfully engrossing book. Essential for all parents and children, that is, all people."
                —Library Journal
"My Father Before Me is a heartrending tale told—completely without rancor—in the words of the poet Forhan is. . . . My Father Before Me is a triumph."
                —The Buffalo News
VIEW OTHER BOOKS